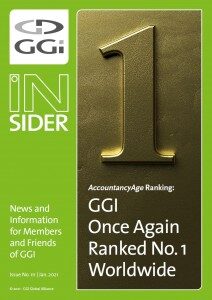 AccountancyAge Ranking: GGI once again No.1 worldwide
According to the latest 2020 Survey of Networks, Alliances and Associations by AccountancyAge, GGI is number two in the list of Associations and Alliances worldwide, but number one as the largest multi-disciplinary association.
GGI currently has over 870 offices in more than 125 countries and a total professional staff of 29,600 that takes care of the accounting, legal, taxation, and consulting matters of its growing international clientele.
Plans for the future?
As a true Swiss institution, GGI will continue growing and setting standards that underline high quality and professionalism.
Topics in this issue include:
The article reports some successes achieved by some companies member of GGI and many different topics, including:
Post-Brexit: Ensuring Your IP Rights Are Not at Risk
Aspects of DAC-6
The Consolidated Appropriations Act and Its Implications on Paid Leave
Looking Forward: The Future of Philanthropy
Distribution of Dividends: How can You Benefit from the Notification Procedure?
Setting Up a Business in Ireland
Financial Planning in Times of COVID-19
Among the articles in the section "Practise Group" we find instead:
Never have I ever…? Marketing 2021: A Marketing Director's Perspective
COVID-19 and Its Effects on Transfer Prices of Routine Companies
Employer Held Liable for Shoddy Workplace Investigation
Nineteen Motley Real Estate Ideas in Times of COVID-19
We report the link to be able to deepen these issues and much more.
Edit by: GGI
Posted on